Instep Credit Union Donates to PPSO "Toys for Smiles" Program
01/04/2023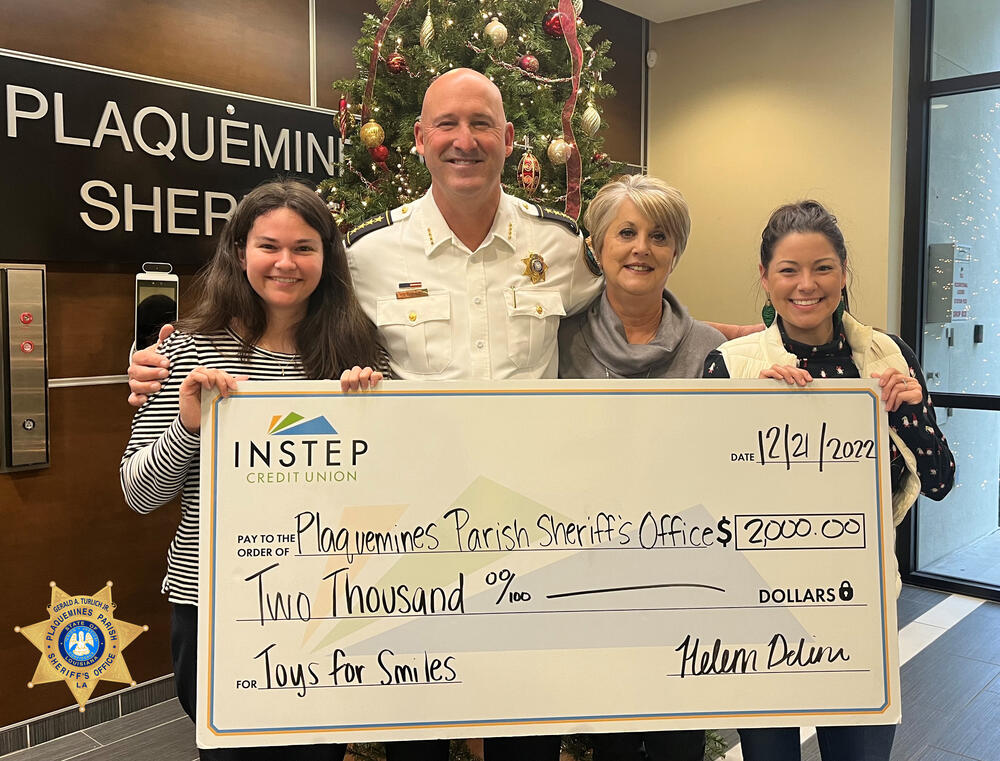 (𝘓-𝘙): 𝘒𝘢𝘳𝘢 𝘏𝘰𝘳𝘯𝘰𝘴𝘬𝘺, 𝘚𝘩𝘦𝘳𝘪𝘧𝘧 𝘑𝘦𝘳𝘳𝘺 𝘛𝘶𝘳𝘭𝘪𝘤𝘩, 𝘗𝘗𝘚𝘖 𝘚𝘈𝘓𝘛 𝘋𝘪𝘳𝘦𝘤𝘵𝘰𝘳 𝘎𝘭𝘦𝘯𝘥𝘢 𝘑𝘦𝘯𝘬𝘪𝘯𝘴 & 𝘈𝘯𝘥𝘪𝘦 𝘏𝘦𝘳𝘣𝘦𝘳𝘵
On December 21, 2022,
Instep Credit Union
donated $2,000 to the Plaquemines Parish Sheriff's Office "𝕋𝕠𝕪𝕤 𝕗𝕠𝕣 𝕊𝕞𝕚𝕝𝕖𝕤" program. Instep representatives, Andie Herbert and Kara Hornosky, presented Sheriff
Jerry Turlich
with the generous donation at the PPSO Administration Building in Belle Chasse.
Because of the contributions of over 30 local businesses and organizations, including Instep Credit Union, the PPSO "𝕋𝕠𝕪𝕤 𝕗𝕠𝕣 𝕊𝕞𝕚𝕝𝕖𝕤" program provided approximately 245 gifts
to all Head Start and PreK students in Plaquemines Parish this past Christmas!
"𝒯𝒽𝒶𝓃𝓀 𝓎𝑜𝓊 𝓉𝑜 𝐼𝓃𝓈𝓉𝑒𝓅 𝒶𝓃𝒹 𝒶𝓁𝓁 𝑜𝓊𝓇 𝓁𝑜𝒸𝒶𝓁 𝒸𝑜𝓃𝓉𝓇𝒾𝒷𝓊𝓉𝑜𝓇𝓈 𝑜𝒻 𝓉𝒽𝑒 𝒯𝑜𝓎𝓈 𝒻𝑜𝓇 𝒮𝓂𝒾𝓁𝑒𝓈 𝓅𝓇𝑜𝑔𝓇𝒶𝓂," 𝓈𝒶𝒾𝒹 𝒮𝒽𝑒𝓇𝒾𝒻𝒻 𝒯𝓊𝓇𝓁𝒾𝒸𝒽. "𝒯𝒽𝒾𝓈 𝑔𝑒𝓃𝑒𝓇𝑜𝓈𝒾𝓉𝓎 𝓂𝒶𝒹𝑒 𝒾𝓉 𝓅𝑜𝓈𝓈𝒾𝒷𝓁𝑒 𝒻𝑜𝓇 𝓊𝓈 𝓉𝑜 𝓅𝓊𝓉 𝓈𝓂𝒾𝓁𝑒𝓈 𝑜𝓃 𝓉𝒽𝑒 𝒻𝒶𝒸𝑒𝓈 𝑜𝒻 𝒶𝓁𝓁 𝓉𝒽𝑒 𝐻𝑒𝒶𝒹 𝒮𝓉𝒶𝓇𝓉 𝒶𝓃𝒹 𝒫𝓇𝑒𝒦 𝓈𝓉𝓊𝒹𝑒𝓃𝓉𝓈 𝒾𝓃 𝑜𝓊𝓇 𝒫𝓁𝒶𝓆𝓊𝑒𝓂𝒾𝓃𝑒𝓈 𝒫𝒶𝓇𝒾𝓈𝒽 𝓈𝒸𝒽𝑜𝑜𝓁𝓈."