Venture Global LNG Makes Monetary Donation to the PPSO Seniors And Law Enforcement Together and Junior Deputy Programs
02/13/2023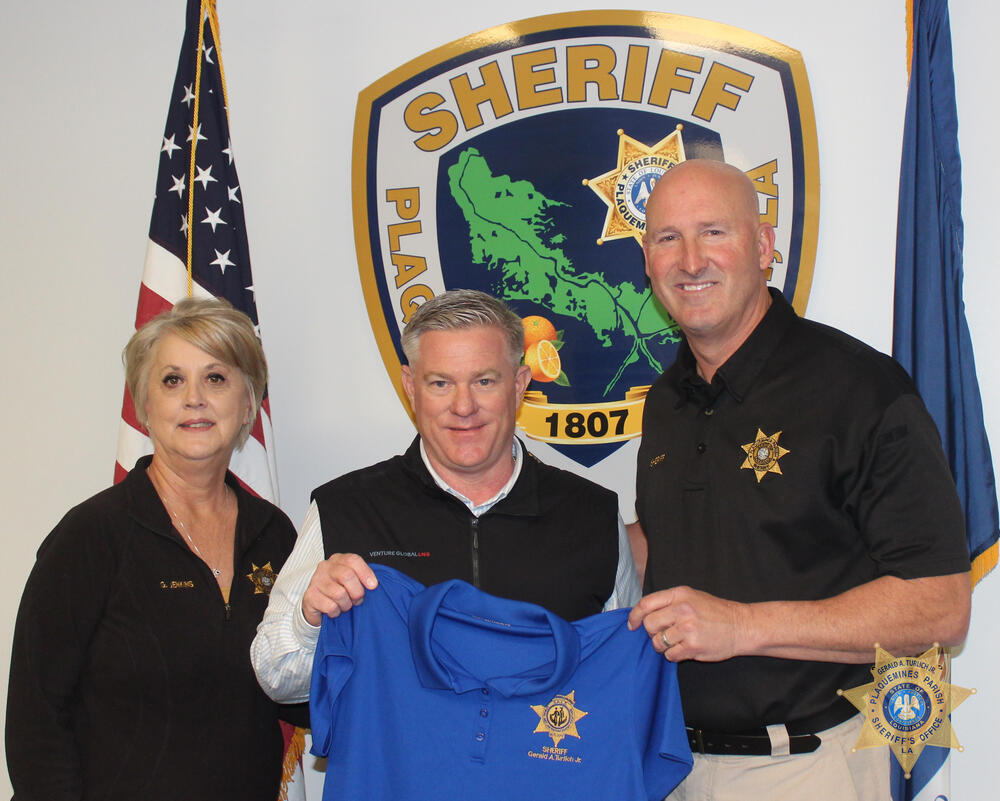 (L-R): Glenda Jenkins, Charlie Burt & Sheriff Jerry Turlich
OFFICIAL NEWS RELEASE
For Immediate Release
Belle Chasse, LA - Sheriff Gerald A. Turlich, Jr. would like to take this opportunity to thank Venture Global LNG for making an $8,000 monetary donation to the Plaquemines Parish Sheriff's Office (PPSO) Seniors and Law Enforcement Together (SALT) and Junior Deputy programs.
On February 2, 2023, Sheriff Turlich invited Charlie Burt, Venture Global LNG Senior Manager of Development, to the PPSO Administration Building in Belle Chasse to express his gratitude as they discussed their mutual vision and commitment to Plaquemines Parish and their overwhelming passion for the senior citizens and youth in our community. The generous donation from Venture Global LNG will be split between the two programs and will assist the PPSO Special Operations Division with presenting informative material while building a fun, positive environment filled with camaraderie.
"We wouldn't be where we are today without the senior citizens in our community and our youth will be our future leaders guiding us forward," said Sheriff Turlich. "Thank you to Venture Global for contributing to these PPSO programs that helps keep our seniors and youth informed while providing them with a place to come together and keep Plaquemines Parish unified and safe."
For additional information regarding the SALT program, please contact Program Director Glenda Jenkins at gjenkins@ppso.net. The dates for the Junior Deputy Summer Camp have not been set at this time, but the camp is a week long event typically held in early June. For additional information regarding the PPSO Junior Deputy Summer Camp, please contact Sergeant Lauren Roussell-Babin at lroussell@ppso.net or Sergeant Aimee Pearsall at apearsall@ppso.net.
#####
Contact Information:
Captain Chaun J. Domingue
Public Information Officer
Office: 504-934-6785
cdomingue@ppso.net