PPSO Partner with Chevron Oronite to Distribute Hurricane Preparedness Kits for Plaquemines Parish Senior Citizens
07/28/2020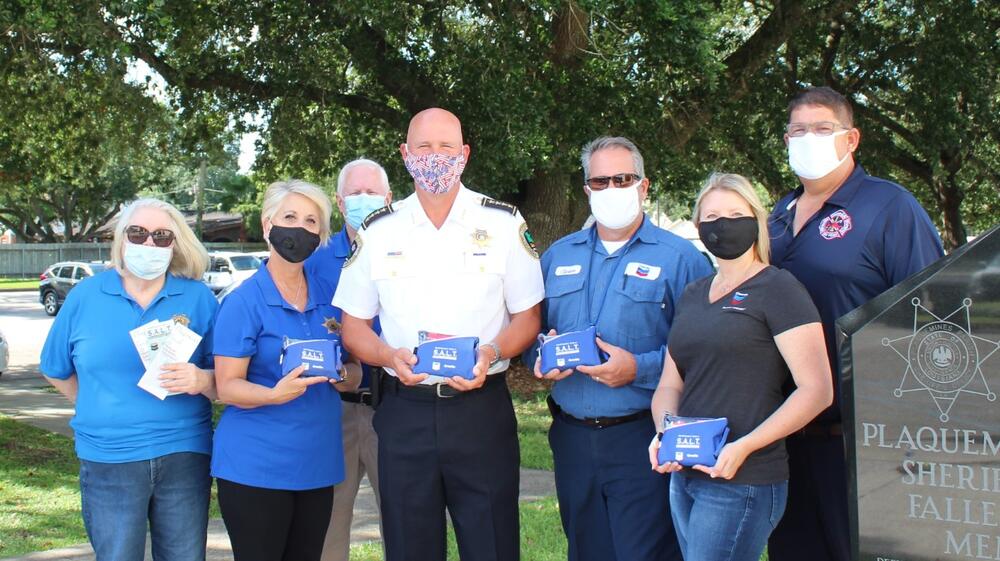 (L-R) Brenda Adams, Glenda Jenkins, John Adams, Sheriff Turlich, Clinton Williams, Peggy Ramey, Jeremy Floyd
OFFICIAL NEWS RELEASE
For Immediate Release
Sheriff Gerald A. Turlich, Jr. announces that the Plaquemines Parish Sheriff Office (PPSO) Seniors And Law-enforcement Together (SALT) Program partnered with Chevron Oronite to purchase and distribute 500 Hurricane Preparedness Kits dedicated to the senior citizens of Plaquemines Parish.
During the week of July 27, 2020, members of the PPSO Senior Watch and SALT programs began delivering the kits to registered senior citizens throughout Plaquemines Parish. The Hurricane Preparedness Kits include items essential for survival during the event of a hurricane such as a flashlight, a bottle of water, a blanket and first-aid kit.
"Chevron Oronite Oak Point is proud to support the Plaquemines Parish Sheriff's Office Seniors and Law Enforcement Together (SALT) Program," said Brett Cooley, General Manager Americas Manufacturing and Supply. "The distribution of hurricane kits reflects a core business value, to advocate for a safe and healthy community."
"Not only are we entering the heart of the 2020 hurricane season, but we also must incorporate the possible effects of COVID-19 during this current pandemic," said Sheriff Turlich. "We are honored to work with our partners at Chevron Oronite to assure all senior citizens have the tools necessary in order to remain safe during this hurricane season while staying healthy."
The PPSO SALT Program launched in May of 2017 and focuses on communication and education between the seniors of our community and the sheriff's office addressing issues such as - Legal issues, Health issues, Financial issues, Power of Attorney, Elder Abuse, Fraud Prevention and many more. If you would like to register or learn more about the SALT Program or Senior Watch, please contact Program Director Glenda Jenkins at gjenkins@ppso.net or 504- 934-6881.
#####
Contact Information:
Lieutenant Chaun J. Domingue
Public Information Officer
Office: 504-934-6785
cdomingue@ppso.net