PPSO Recognizes the Military Officers' Wives' Club for Monetary Donation in Support of Young Marines Program
03/12/2021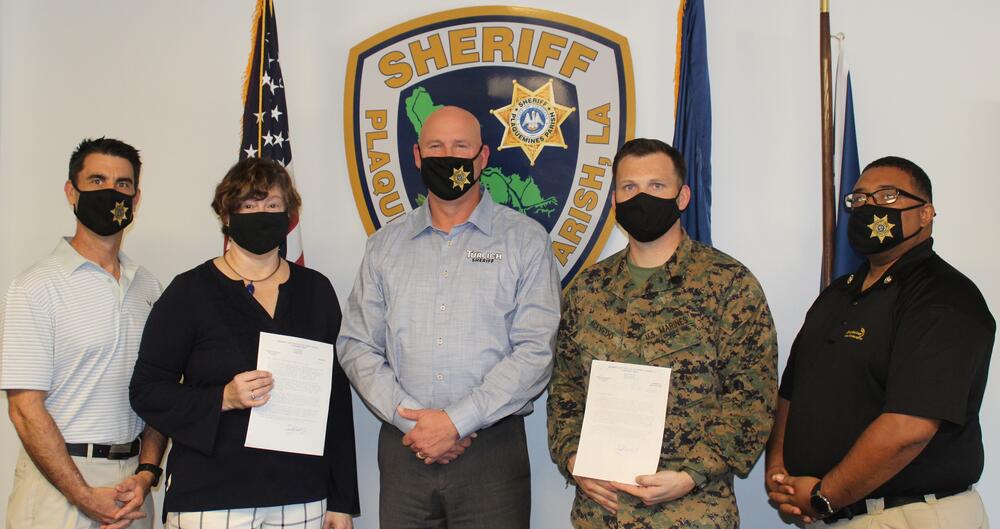 (L-R) Captain Mark Sauer, Dees Haas, Sheriff Jerry Turlich, Young Marine Volunteer Mario Acevedo, Deputy Norman Phillips
OFFICIAL NEWS RELEASE
For Immediate Release
On March 3, 2021, Sheriff Gerald A. Turlich, Jr. met with Dees Haas, President of the Military Officers' Wives' Club, at the Plaquemines Parish Sheriff's Office (PPSO) Administration Building in Belle Chasse and presented her with a PPSO "Letter of Appreciation" for their continued support of the PPSO Young Marines Program in 2020.
Despite adjusting to the new guidelines and restrictions associated with the ongoing COVID-19 pandemic, the Military Officers' Wives' Club continued their overwhelming support and commitment to the PPSO Young Marines Program by presenting the program with a $3500 donation in July of 2020. The generous donation was used to provide recruits with uniforms along with contributing to the recruit training graduation in July of 2020 and the Young Marine Birthday Ball celebration in October of 2020. The Military Officers' Wives' Club has been an integral organization to help provide a level playing field to strengthen the lives of the Plaquemines Parish youth.
"The support of Dees and the Military Officers' Wives' Club allows us to continue our program and provide positive role models to the youth of our parish," said Sheriff Turlich. "Their generous gifts the last several years have been greatly appreciated and humbling to us all."
The upcoming PPSO Young Marines Recruit Class "Golf" is scheduled to begin in July of 2021 and is currently accepting applications. For additional information, please contact Deputy Norman Phillips at 504-934-6887 or email at nphillips@ppso.net.
#####
Contact Information:
Lieutenant Chaun J. Domingue
Public Information Officer
Office: 504-934-6785
cdomingue@ppso.net